Football is the most known and loved sports in the world. Due to unknown reasons, It was spread around fairly quickly, enabling to gather different countries, culture and people around the world.
Football is also a sport that has been historically used as a tool capable of generating a better social integration, while encouraging a healthy life style and values such as team work and companionship. But above all, it is a simple and fun game, more than enough reasons to assure a fast global expansion.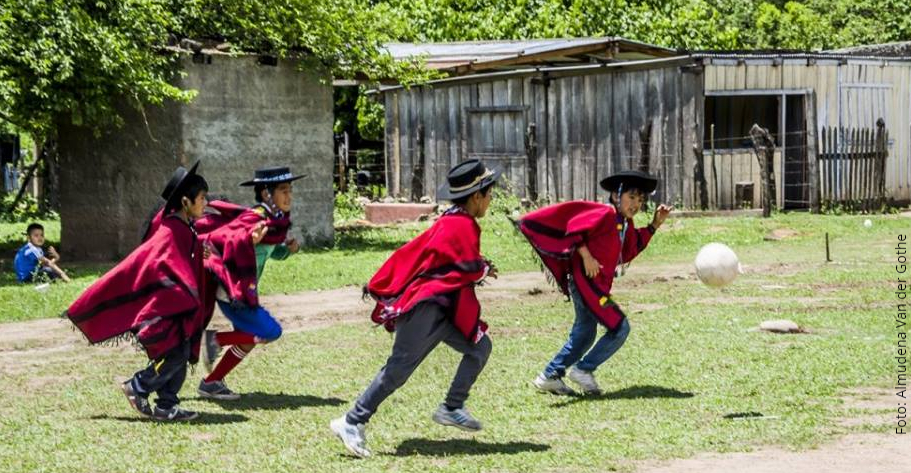 Picture of Football celebration in Rio Blanquito, Salta, Argentina
Why Global?
Besides playing football in such isolated places as Patagonia, Egypt, Zambia and Malaysia, they also shares the same problematic issues and are struggling to solve them individually. Besides their passion for football they can learn from another experience to solve these distinct problems together.
Because besides playing football in such isolated places as Patagonia, Egypt, Zambia and Malaysia, there is also a global need for strengthening bonds among families, communities and rural schools. The sense of community must be built day by day, through actions and not words, both in urban and rural areas. The wide cultural diversity has a value that defines all the evolutionary richness of humanity. To know it, respect it and generate a space for communication, are good ways to improve the living conditions on our planet.
Characteristics of the Gathering

It is important to clarify that only children will play football (they can be boys and girls, as well as young people of school age). It is neither a tournament nor a championship, it is a gathering and the place of the gathering is -according to what they agree on- the rural school or community. The main objective is community development, and not competition among rural communities and villages. This is one of the conditions to join the campaign and share its spirit.
The participation of families, school authorities and other adults related with the community will be exclusively focused on the supportive actions they jointly decide to undertake at a local level. Their responsibility will also be to anticipate and look after all aspects related to safety of all participants during the process and to agree on other organizational aspects that shall celebrate community actions they undertook previously or will undertake during the same day of the gathering: Friday October 25 th., 2019.
This gathering symbolically joins all rural schools and communities of the world that share these objectives. If it is not possible to carry out the celebration on said date due to weather reasons, a more convenient date will be agreed upon.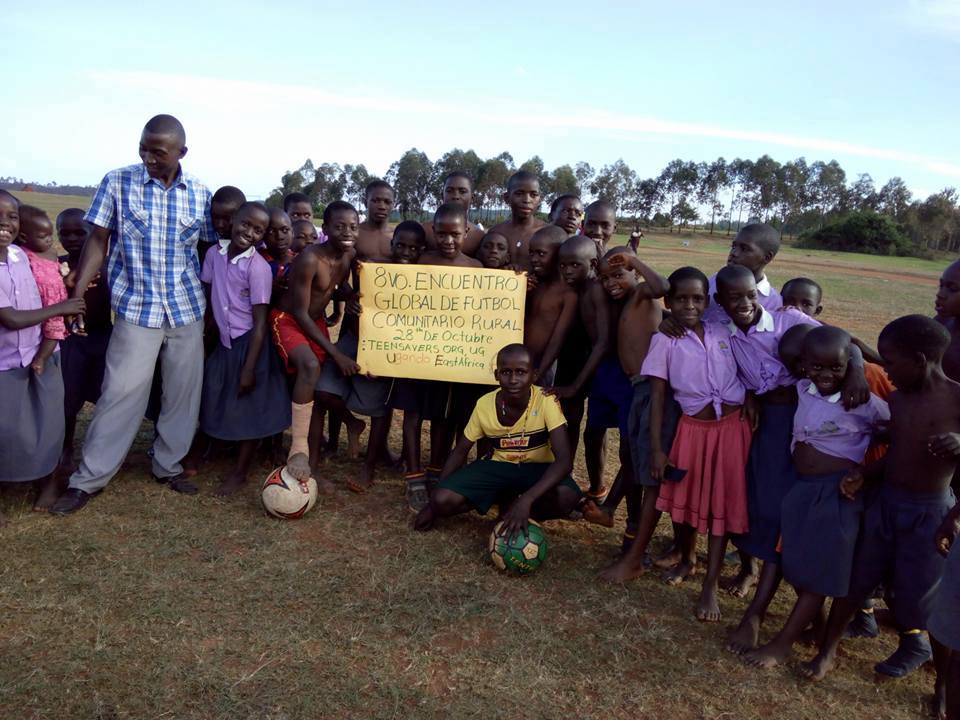 Children from Uganda, celebrating the Global Rural Community Football Gathering.
Examples of possible solidarity actions to be carried out:
At the school:
 Paint a classroom, a dining room, bathrooms or the kitchen.
 Start a vegetable garden or a greenhouse.
 Obtain and plant native or fruit trees.
 Build a playground for break time.
 Organize and update the library.
 If there is space, improve the football field (obtain or knit new nets, improve goals, get rid of stones or dangerous elements, etc.).
 Obtain elements and materials for sports or art classes.
 Carry out some artistic or cultural activity (literary workshop, a play, photography or painting exhibition, etc.).
 Build shelves and cabinets to store food safely and properly.
 Compile stories about the community, asking the children to make drawings, put together a book and then make copies so that families may enjoy it.
In the community:
 Carve and paint a new sign at the entrance to the community and for the school.
 Obtain wool and organize a gathering to learn how to knit.
 Think about and organize a campaign to eliminate rubbish and sources of potential infection.
 Build fences to avoid animals bringing dirt into the areas close to water pumping. Research safe ways for water storage and purification.
 Ask authorities and social organizations for support to implement an effective program to avoid the spreading of disease.
 Organize an awareness rising campaign on any subject deemed to be critical.
 Garner support to begin the building of a community center.
 Help to improve rural health units or hospitals.
From A to Z, from Argentina to Zambia.
Around 700 rural schools and communities from Argentina, Uruguay, Chile, Bolivia, Colombia, Cuba, Costa Rica, Guatemala, Spain, Netherlands, Belgium, Bosnia-Herzegovina, Republic of Azerbaijan, Malaysia, Sri Lanka, Benin, Egypt, Democratic Republic of Congo, Zambia, Saudi Arabia, Iran, Pakistan, Lebanon participated.
On October 25, 2019, thousands of children and youth will celebrate solidarity actions they engaged in with their families to help improve their schools and communities. The results were extraordinary: vegetable gardens, mobile libraries, tree plantings, theatre performances, playgrounds, educational campaigns and even the building of a community sanitary center. Local actions, but global communication. Photographs, testimonials and exchanges travel from one place on the planet to another through www.futbolrural.org.ar.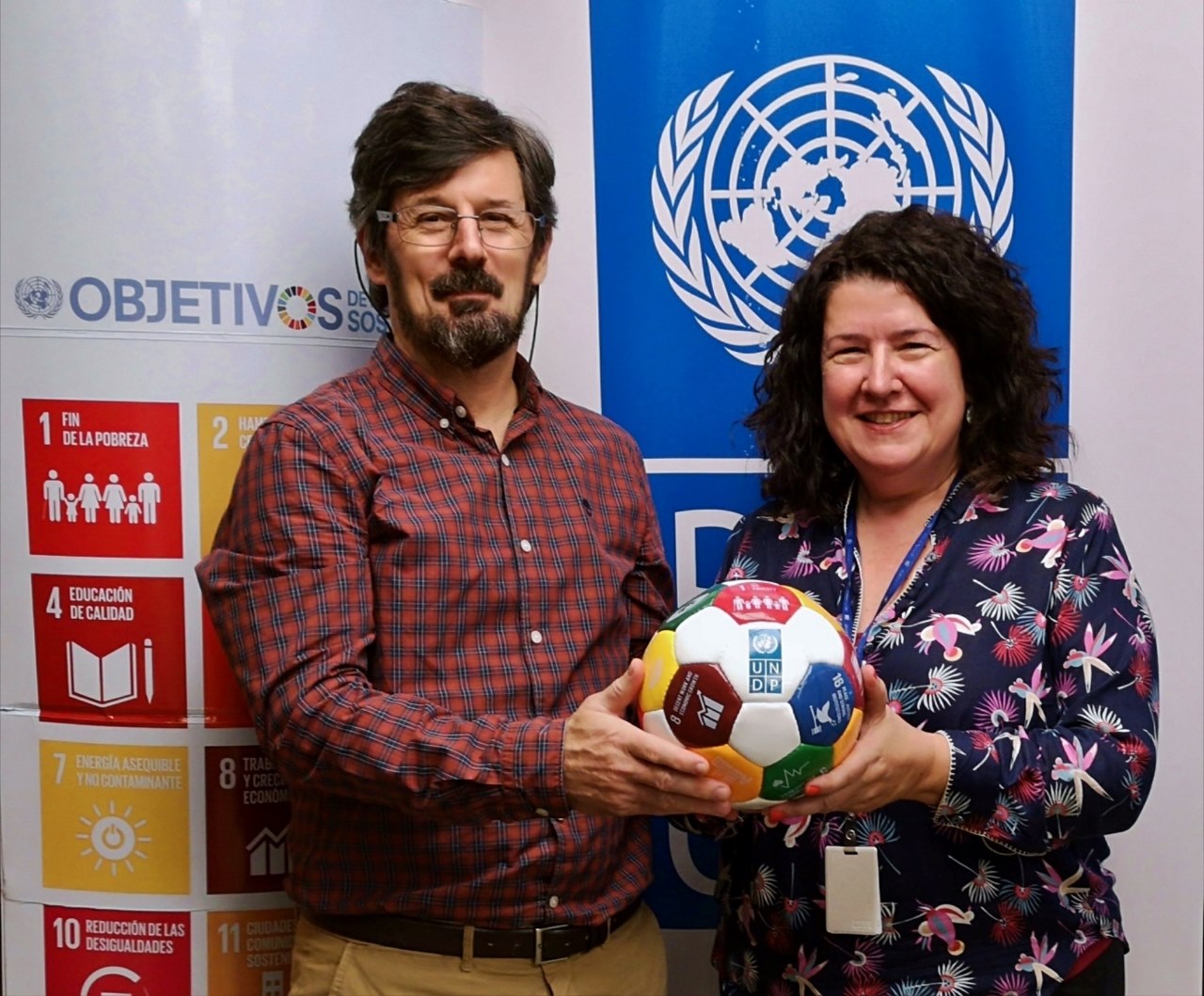 UNDP supporting te initiative!